William Ballard, a regular contributor to Entreprenuer.com, is a solo entrepreneur and business owner in Ontario, Canada. A former network-marketer, William definitely knows how to go from original business idea to established business operation. His business tips and marketing wisdom has been featured on Entreprenuer.com as well as many other online business websites. William is a husband, writer and author. In his spare time you can usually find him reading or making notes for his next book. But above all else, William loves spending quality time with his loving wife. She truly holds his heart.
Marketing is the life or death of a startup. If you have the best product on the market but can't effectively share that product your target audience, you still don't have a viable business.
It has been said, " Great products are easy to market, but great marketing will never sell a bad product."Still, it's rare for a business to grow, even with great products, without effective marketing.
Today, that marketing power is packed into marketing platforms, spanning email marketing, content marketing, lead capture, lead nurturing, and CRM features into one tool. HubSpot is one such tool that empowers even bootstrapped marketing teams to accomplish more.
8 Ways HubSpot Can Benefit Startups
If you're a startup looking for a platform to kick start your marketing efforts, these benefits will show you why HubSpot is worth a very serious consideration. While a lot of startups opt for WordPress and New Rainmaker or Infusionsoft as their marketing platform, because of the cost-differences. In most cases, we see them spending more in the long run in wasted time and additional employees.
1. Developer-free Management
When it comes to building a website, landing pages, sales funnels, and so forth, you normally need a web developer, which can be extremely costly. Most startups do not have the resources to assign a developer strictly to marketing tasks. The beauty of HubSpot is its ability to accomplish those tasks by non-programmer marketers.
There is a learning curve with this system and it may take time to master. And you may need a developer to setup the initial templates. But when your marketers master the platform, they can build new landing pages, engage marketing automation, and even implement smart, personalized site content without the need to call in a developer
2. Comprehensive Testing & Metrics System
Everything you do in HubSpot can be measured down to the individual links in a marketing email. Whatever you want to test, you can test without spending hours trying to create goals or events in Google Analytics, or any other metric tracker.
3. Email Marketing
HubSpot provides you with its own email-marketing platform. It gives you list segmentation, a/b testing, personalization, and a variety of triggering mechanisms which you can setup in a few clicks. Both the automated and the standard emails have a ton of metrics available at a glance to help you improve the open and click through rate on your e-mails.
After using 3rd party email providers for many years, I can safely say that HubSpot's email system is more powerful, and much easier to use.
4. Easy Sales Funnel Optimization
When it comes to lead nurturing, and moving each lead down a sales funnel, or the buyers journey, nothing can compete with the sophistication of HubSpot. It was built for this very purpose.
Automated workflows, that can be tweaked with just about any logic you can come up with, make it easy to automate a lead nurturing campaign. Then, the comprehensive metrics and information on the effectiveness of each campaign make tweaking and iterations simple.
5. Lead Generation Tools
HubSpot excels at Lead Capture setups. For each offer, creating a high-conversion landing page is simple. As a matter of fact, once you get a page format that's optimized at a high conversion percentage, duplicating it can be done with a couple clicks of the mouse. This saves me hours of work when I need to knock out a new landing page. I can simply pick the highest converting one we have, clone it, and measure how the new page is working.
If it's not converting leads at a high enough percentage, I do some a/b testing to find ways to increase the conversions for that offer. At Lean Labs, most of our landing pages convert over 40% of their traffic.
6. SEO Tools
HubSpot also has its own SEO features built in. The Keyword tool can track your keyword rankings, as well as show ranking opportunities at a glance. This is a priceless tool that gives fast access to all the SEO data and performance reports you need to effectively grow organic traffic.
7.CRM Tools
Another tool startups need in their marketing toolkit is a Customer Relationship Management (CRM) system. There are multiple options out there, the most popular being Salesforce. Most marketing and sales teams experience the nightmare of trying to integrate their marketing systems with their CRM system, like they do with InfusionSoft.
This is is no longer a problem with HubSpot, who now provides its own CRM tools.
With this tool, you get instant integration to the analytics of each contact on your site and their behavior. In other words, it provides absolute detailed insight into each lead that has entered your funnel and reports to you their very behavior so that you know how to provide the best value to them with your products and services.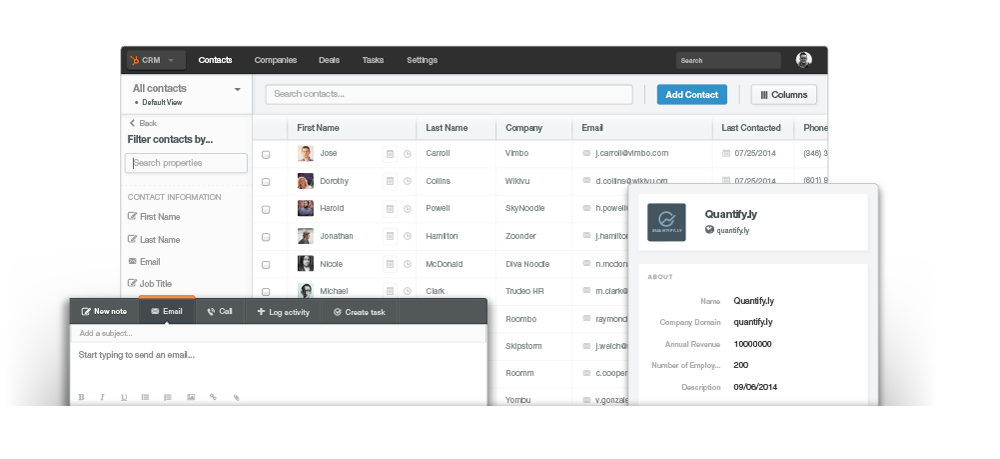 8.Customer Feedback Tools
With HubSpot Tally, you are able to get instant feedback from your site visitors, allowing you to dial in precisely on what kind of content and user experience they expect from your website and emails.
Conclusion:
In short, HubSpot is not a must have for every startup - especially if they have the resources to assign developers to complete marketing tasks. In most cases we've seen, even large teams see significant improvement in efficiency and marketing/sales results from using HubSpot.
HubSpot isn't cheap. It's definitely an investment. But it does save time, and it does allow less people to accomplish more.
Deciding if HubSpot is right for your startup needs to be a business decision. If you add in the cost of more marketing employees, vs. the cost of gained effectiveness and productivity from using HubSpot, it's actually cheaper - especially in the long-term as your marketing automation machine takes shape.
If you want to find out how HubSpot can be used for your unique business needs, feel free to have a mastermind session with us. At Lean Labs, we're software agnostic, but we're huge fans of HubSpot. We think you will be too.
Explore Topics
Discover the Hidden

Strategies

We Use to 10X Our Clients' Growth in 36 Months!
The Growth Playbook is a FREE proven guide to planning, budgeting and accelerating your company's growth.