Sebastian is an Inbound Marketer who is excited by creating read, watch, and listen content as much as he enjoys consuming it. In his off-time, he can be found with his camera and microphone ready to document his surroundings.
The Best Email Marketing Software
Are you using the best email marketing software to fit your business' needs?
Email is an integral part of any growth strategy to make the most of your lead magnets, nurture your leads, and drive traffic back to your website or sales team.
However, with all of the available software options out there, how do you know which one will be right for you?
Short answer, it depends. Your business's goals and needs will determine what kind of toolset will be the right fit.
We've compiled a list of the top 5 email marketing software tools available on the market, so you don't have to do trial and error testing to see what fits your business just right. By the end of this article, you will have better insight into which email marketing tool would be a good fit for your business.
The 5 Best Email Marketing Software Tools on the Market
Every email marketing software you consider should include the basics, beginning with these features:
An Easy-To-Use Interface
Flexible Segmentation
Simple Automation
Clear, Metric Reporting
Once you have those basic features accounted for, you can elevate your email marketing game beyond the essentials. Another helpful resource before making your software decision is gauging what stage your business is in.
Our Growth Grader can help you measure and continue tracking all the six levers of growth to identify what works best for your business and what is impeding your sales success.
1. HubSpot - The Platform Champion

With HubSpot earning top-rated awards and #1 spots from G2 and Trust Radius, this free software is hard to pass up. The email marketing software offered by HubSpot is a great resource to start building your email list for beginners, as well as advanced users.
The free software includes:
Drag-and-drop editing and email creation
Personalization token options
Automatic responsive design
Contact management
Live chat and customer forms
Traffic and conversation analytics
Out of those helpful features, surprisingly, the feature that helps HubSpot stand out the most are the free training resources and the Customer Relationship Management (CRM) integration.
Not only can you create and design your business' emails within the HubSpot dashboard, but you can also track which customers are opening up your emails, send emails directly from your CRM software, analyze your customer journeys, and include list segmentation.
Takeaway: HubSpot is a top-rated choice for your email marketing, especially if you have a sales and marketing team that would like more streamlined processes. Their free platforms can even beat some of the paid plans on the market based on the features offered.
2. MailChimp - The Market Favorite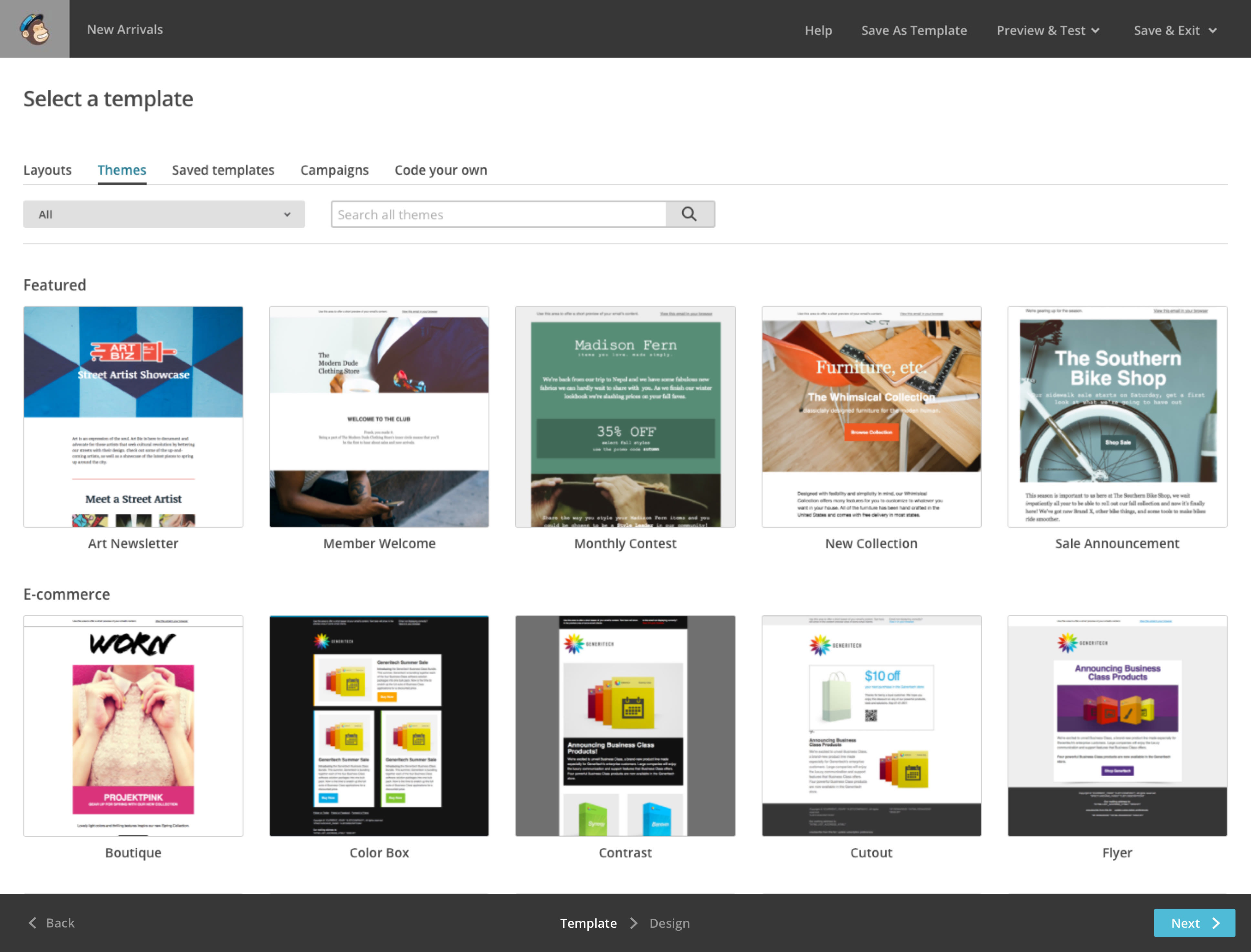 MailChimp's popularity is nothing short of incredible, with an overwhelming 70% market share and over 1 million companies using their platform; this software is definitely a fan favorite.
One of the advantages of being the market leader is that they can offer competitive plans. MailChimp has a generous freemium plan available to get you introduced to their software.
The basic option offers:
10,000 emails to 2,000 subscribers or less
Clear and detailed reporting
Hundreds of integrations with other apps
Step-by-step marketing guidance
As your company grows, MailChimp is able to grow with you. They are continually updating and adding features to support their users. As your email marketing strategy levels up and requires more advanced features such as A/B testing and data-driven automations, Mailchimp is there to support your growth.
Takeaway: Mailchimp is a solid software for email marketing; it's the market leader and a reliable option. This software is great for those who would like a stand-alone software separate from their CRM and marketing software.
3. Constant Contact - The Corporate Option
Along with other drag-and-drop email marketing platforms, Constant Contact is a good way to familiarize yourself with email marketing tools.
The lowest paid plan offers its users:
A simple and quick email builder
Basic automation like autoresponders
Simple campaign reporting
Wide variety of template options
Constant Contact is one of the more expensive options on this list, while only offering the most basic toolsets to their users. With their lowest plans starting at $20/month with no pay-as-you-go option, it is not a very competitive offering compared to the other tools on this list.
Despite Constant Contact's limitations on basic features and payment options, this software's advantage is that it can create a one-stop-shop for email marketing and e-commerce website creation.
If you go with Constant Contact, you will have a good company because conglomerates like the Red Cross, Whole Foods, Hyatt Hotels, and many more large corporate businesses seem to enjoy this software.
Takeaway: Constant Contact is beginner-friendly but lacks advanced features and flexible payment options with their basic paid plan. Despite that, if you are working with a large team and have a large budget, Constant Contact may be the option for you.
4. Aweber - The Budget-Friendly Option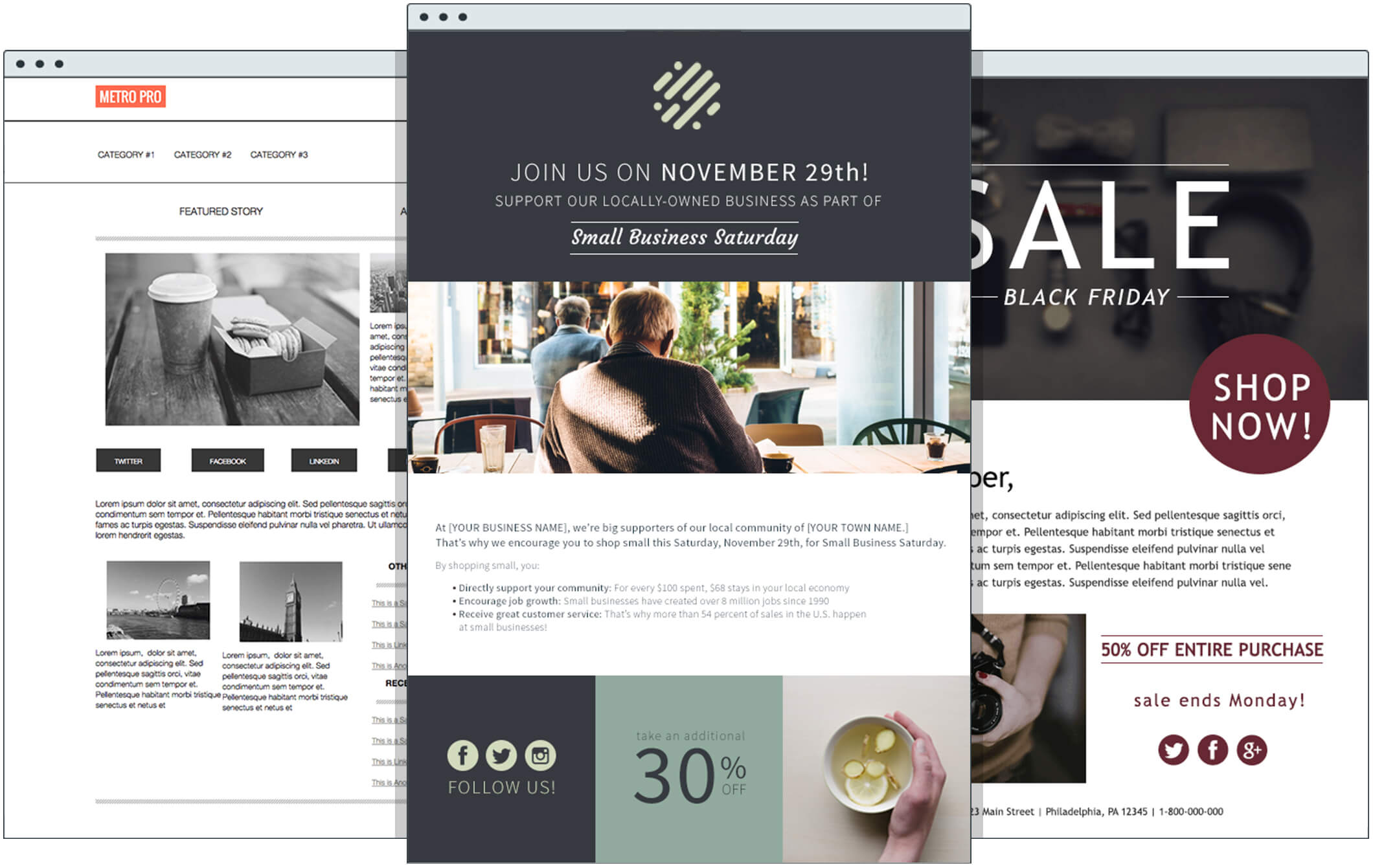 Aweber was founded in 1998 and is considered to be one of the early innovators of email marketing. Similar to several of the other picks on this list, Aweber is primarily focused on start-up, small business, or entrepreneur audiences.
Their free package offers:
Drag-and-drop builders
Hundreds of template options
Simple automation and reporting
While Aweber has a great free plan, the critical difference between this company and other companies is that you pay based on your subscriber count. With plans starting just under $17 a month, this ensures that you are not overpaying for subscriber bandwidth that will go unused.
In addition, they do not gate any features based on your price tier. Whether you have 250 or 25,000 subscribers, you get all of the same features and pay only based on your list's size.
Aweber's pricing certainly is very competitive, starting at $16.15 per month, being cheaper than both MailChimp and Constant Contact's paid plans, while offering very similar feature sets.
Takeaway: Aweber's competitive pricing and unique subscriber upgrade structure make them a great option. Aweber is great specifically for users looking for a stand-alone software that can grow to include reporting, segmentation, and landing pages with their paid plans.
5. Campaigner - The Advanced Option
Moving into the heavyweight category, Campaigner offers enterprise-level tools and advanced automation features. They are also the first on this list to offer SMS marketing and automation as well.
Depending on your business's size, the most appealing features of Campaigner would be their dedicated support staff and customizable feature set that can be made to order.
Campaigner offers the same features as all of the other choices mentioned on this list so far but kicks it up a notch with:
Advanced automations
Purchase behavior targeting
Sales engineering support
Landing page creation
Facebook audience builder
If your business requires access to the software's API, CDN media hosting, and is not shy about editing code, Campaigner may be the choice for you.
Takeaway: Campaigner is a great choice for your company if you're ready to advance your email marketing by getting a bit more technical. If you choose Campaigner, make sure your team hits the ground running because there is no free plan, and the most basic plan starting at $49 monthly.
Finding the Best Email Marketing Software for Your Business
Each business will have different needs and constraints, but to find the best email marketing software for your business, you'll first need to consider where your business is currently and what direction you plan to take in the future.
Many software options on this list can achieve email design, segmentation, and analytics, but for our top choice, HubSpot takes the cake because of the scalable features and integration with their sales software.
HubSpot offers not only an email marketing solution but also several other solutions geared towards Content Management, Sales, and Service. If you're interested in learning more about how to get started with HubSpot and we'll also share our free guide to help you save 60% off of your first year on HubSpot.
Explore Topics
Discover the Hidden

Strategies

We Use to 10X Our Clients' Growth in 36 Months!
The Growth Playbook is a FREE proven guide to planning, budgeting and accelerating your company's growth.